low voltage motor soft starter with communication functions
As the leading supplier of drives, power & controls solution, V&T EcoDriveCN® drives supply low voltage motor soft starters, supporting communication functions, such as Modbus, Profibus.
V&T EcoDriveCN® drives offer a complete range of low voltage AC motor soft starters suitable for both normal and heavy duty applications.
V&T EcoDriveCN® soft starters have been providing precise controlled AC motor starting and stopping for customers. V&T EcoDriveCN® drives pioneered the motor control technology to limit the current to a motor on both acceleration and deceleration to provide a longer life to both motor and machinery.
Easy operation, programming and maintenance


Robust construction


Soft, stepless acceleration and deceleration


Simplified electrical installation


Severe-duty and heavy duty capable


Comprehensive motor protection package


Engineered to industry standards CE and CCC


Communication: Modbus, Profibus, Devicenet


Reduce stress over couplings and transmission devices (gearboxes, sheaves, belts, etc.)


Combining your electric motors with V&T EcoDriveCN® motor soft starter not only reduces risk, breakage and maintenance downtime, but also increases your production efficiency and results.
Application: fans / exhaut fans, ball mills / hammer mills, converyor belts, injection and blow molding, dosing / process pumps, agitators / mixers, centrifagal pumps, grinders, sifting machines / rotating tables, monorails / hoist.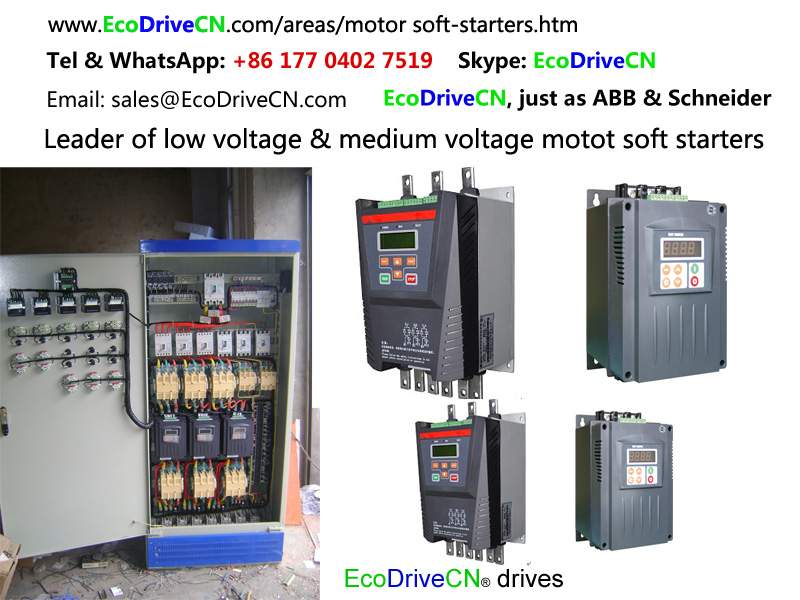 Visit
V&T EcoDriveCN® drives
Frequenzumrichter, variador de frecuencia, inversores de frequencia, Biến Tần, frekvencoregulilo, variateur de vitesse électrique, 可変電圧可変周波数制御, 가변 전압 가변 주파수 제어, frequentieregelaar, частотно-управляемый привод, ЧУП, inversor, frekvenčni pretvornik, Частотно-регульований привод, درایو فرکانس‌متغیر, محول تردد, மாறு-அதிர்வெண் ஓட்டி, micro drive, inverter drive, AC motor drives.
Photo Gallery |CE certificate |Superb components
© 2016 V&T All rights reserved.
Our Expertise Is Your Guarantee!
Reliable supplier of drive, control & power: 200V, 208V, 220V, 230V, 240V, 380V, 400V, 415V, 420V, 440V, 460V, 480V, 500V, 525V, 550V, 575V, 600V, 660V, 690V, 700V, 800V, 900V, 1000V, 1100V, 1140V, 1200V, 1300V, 2.3kV, 3kV, 3.3kV, 4.16kV, 5kV, 6kV, 6.6kV, 7.2kV, 10kV, 11kV, 13.8kV.