flameproof soft starter for electric motor, solid-state explosion proof soft start motor controller and starter
Being one of the most trusted companies to cater to the power electronics industry, V&T EcoDriveCN® drives has achieved success by becoming one of the most recognised suppliers to drives, power, industrial automation and controls, supply cost-effective flameproof soft starters.
V&T EcoDriveCN® explosion proof motor soft starters are designed for the soft-start of the 3 phase asynchronous motor. The rated voltage of the motor shall be no more than 1300V with the frequency of 50/60Hz.
Explosion proof Type: flameproof and intrinsically safety type


High voltage electrostatic powder coated surface


Various protection functions: over-current, overload, phase loss, leakage locking, insulation monitoring, methane locking, air and electricity locking, over/under voltage protection, motor stall, SCR failure, vacuum contactor failure, control power failure, etc


Gradually rising voltage to achieve start


Communication: Modbus


Explosion-proof shell using quick-opening, reliable mechanical linkage between isolating switch and explosion-proof shell.


Easy to operate, quick and easy commissioning


Enclosure is die casted of aluminum alloy and welded of sheets steel


V&T EcoDriveCN® explosion proof motor soft starters are widely used in the environment with poor conditions, such as metallurgy, ports, coal mine, coal preparation plant, the places containing explosive gas like methane, etc.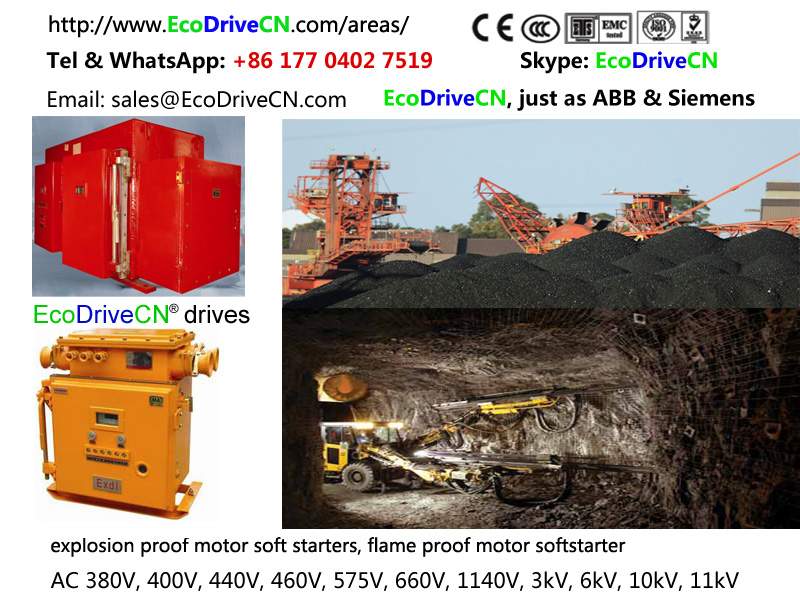 V&T EcoDriveCN® drives are offering high quality flameproof control panels in various specification for hazardous area. The flameproof control panels from V&T EcoDriveCN® drives are widely known for their durability and quality. V&T EcoDriveCN® flameproof control panels can be availed at industrial leading price.
Visit
V&T EcoDriveCN® motor soft starters
Frequenzumrichter, variador de frecuencia, inversores de frequencia, Biến Tần, frekvencoregulilo, variateur de vitesse électrique, 可変電圧可変周波数制御, 가변 전압 가변 주파수 제어, frequentieregelaar, частотно-управляемый привод, ЧУП, inversor, frekvenčni pretvornik, Частотно-регульований привод, درایو فرکانس‌متغیر, محول تردد, மாறு-அதிர்வெண் ஓட்டி, micro drive, inverter drive, AC motor drives.
Photo Gallery |CE certificate |Superb components
© 2016 V&T All rights reserved.
Our Expertise Is Your Guarantee!
Reliable supplier of drive, control & power: 200V, 208V, 220V, 230V, 240V, 380V, 400V, 415V, 420V, 440V, 460V, 480V, 500V, 525V, 550V, 575V, 600V, 660V, 690V, 700V, 800V, 900V, 1000V, 1100V, 1140V, 1200V, 1300V, 2.3kV, 3kV, 3.3kV, 4.16kV, 5kV, 6kV, 6.6kV, 7.2kV, 10kV, 11kV, 13.8kV.