explosion proof variable frequency drives, flameproof frequency inverters
V&T EcoDriveCN® explosion-proof AC variable frequency drives are the special products developed by V&T EcoDriveCN® drives on basic of years of R&D experience to meet the specific requirements of customers in harsh and hazardous environments.
V&T EcoDriveCN® explosion proof variable speed drives are highly flexible AC drives (frequency inverters) designed specifically for hazardous locations. V&T EcoDriveCN® explosionproof VSD can be mounted next to the motor in the classified area, providing significant installation cost savings, along with the traditional AC drives benefits of energy savings, speed and torque control.
V&T EcoDriveCN® drives: deliver installation savings, conserve energy & improve performance.
Easy operation, commission and maintenance


Simply electrical installation


Fine speed and torque control


Soft start capability


Control mode: V/F control, sensorless vector control(SVC), vector control (VC)


Rich protection features: overcurrent, overvoltage, undervoltage, overtempetature, phase loss, overload and short circuit protection


Engineered to international industry standards: CE, IEC, ISO and CCC


Reduced energy consumption


Reduced Maintenance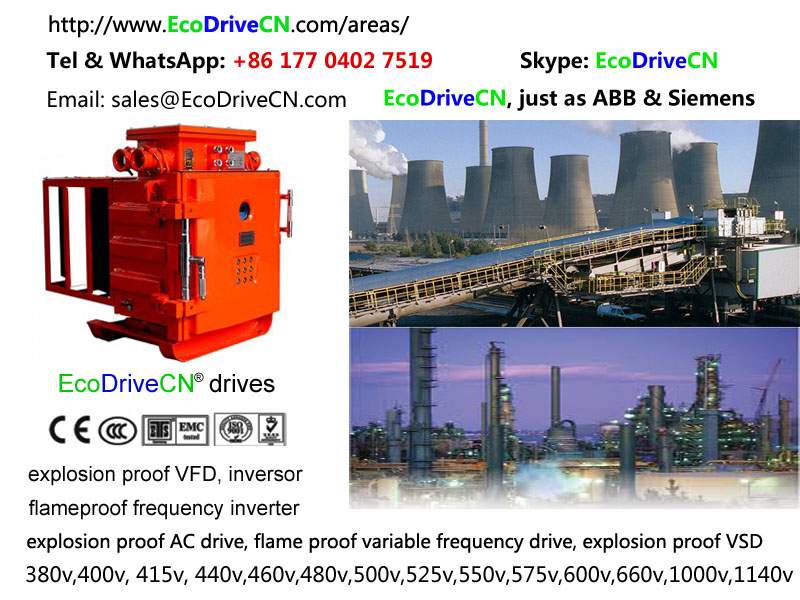 V&T EcoDriveCN® explosionproof AC VFD drive is applied for use in the most extreme environments, and is designed to match the high requirements of pumps, compressors, fans, separators and mixers in the process industries: oil and gas/refineries, oem skid builders, petrochemical, water/wastewater treatment, pharmaceutical, coal and mine, food and beverage manufacturing.
Visit
V&T EcoDriveCN® drives
Frequenzumrichter, variador de frecuencia, inversores de frequencia, Biến Tần, frekvencoregulilo, variateur de vitesse électrique, 可変電圧可変周波数制御, 가변 전압 가변 주파수 제어, frequentieregelaar, частотно-управляемый привод, ЧУП, inversor, frekvenčni pretvornik, Частотно-регульований привод, درایو فرکانس‌متغیر, محول تردد, மாறு-அதிர்வெண் ஓட்டி, micro drive, inverter drive, AC motor drives.
Photo Gallery |CE certificate |Superb components
© 2016 V&T All rights reserved.
Our Expertise Is Your Guarantee!
Reliable supplier of drive, control & power: 200V, 208V, 220V, 230V, 240V, 380V, 400V, 415V, 420V, 440V, 460V, 480V, 500V, 525V, 550V, 575V, 600V, 660V, 690V, 700V, 800V, 900V, 1000V, 1100V, 1140V, 1200V, 1300V, 2.3kV, 3kV, 3.3kV, 4.16kV, 5kV, 6kV, 6.6kV, 7.2kV, 10kV, 11kV, 13.8kV.